Total fire ban - Wednesday 8 December 2021
DFES has declared a 24 hour TOTAL FIRE BAN for the City of Wanneroo on Wednesday 8 December 2021. The Fire Danger Rating is forecast as EXTREME. Further information
Home
COVID-19 Vaccinations
Published Friday, 29th October 2021
Let's all roll up for WA.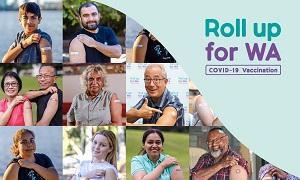 Did you know you can book your COVID-19 vaccine appointment at a participating GP, pharmacy or a state-run clinic? It's simple, quick and easy.
Simply visit rollup.wa.gov.au/ to view the range of locations within the City of Wanneroo.
Answer a few simple questions to view your closest available appointment. Confirm a time that suits you, and you're set.
More articles in the news archive.