Total fire ban - Wednesday 8 December 2021
DFES has declared a 24 hour TOTAL FIRE BAN for the City of Wanneroo on Wednesday 8 December 2021. The Fire Danger Rating is forecast as EXTREME. Further information
Home
Mayor's Christmas Appeal 2021
Published Monday, 1st November 2021
The City of Wanneroo is seeking donations of toys and non-perishable food to distribute to local residents.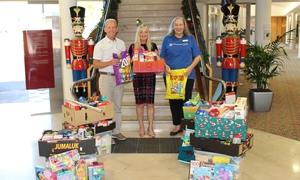 Mayor Tracey Roberts said the annual Christmas Appeal was a great opportunity for the City's residents to help their fellow community members.
"The City has been running the Christmas Appeal for over two decades now," she said.
"Each year we are inspired by the generosity of our community who go above and beyond to bring Christmas cheer to local families who are doing it tough, and we are extremely appreciative for each and every donation received."
To help a local family have a brighter Christmas, donations can be placed in one of the Appeal bins located at the Wanneroo Civic Centre, any of the City's libraries, selected schools and a number of local businesses by Tuesday 30 November.
Donations will be distributed by the following charities and community groups:
Grandparents Rearing Grandchildren
MercyCare
Mindarie Rotary Club
No Limits Perth
Patricia Giles Centre for Non-Violence
Pregnancy to Parenthood (ECU)
Rainbow Community Church
St Vincent De Paul Society
The Pantry
Uniting WA
For more information, including donation bin locations, visit the Mayor's Christmas Appeal page.
More articles in the news archive.