Total fire ban - Wednesday 8 December 2021
DFES has declared a 24 hour TOTAL FIRE BAN for the City of Wanneroo on Wednesday 8 December 2021. The Fire Danger Rating is forecast as EXTREME. Further information
Home
Art and ocean intersect at Converging Currents
Published Thursday, 4th November 2021
This month, Wanneroo Gallery welcomes Converging Currents, a collection of cross-continental and local collaborations, with a focus on migratory stories and the City of Wanneroo's sparkling coastline.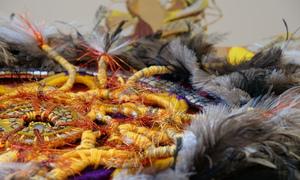 The exhibition forms part of the state-wide Indian Ocean Craft Triennial (IOTA 21), a festival spanning more than 30 major galleries and venues across Western Australia.
As part of Converging Currents, the Wanneroo Gallery will play host to a suite of solo shows, collaborations and group exhibitions by artists living in, working in and connected to the Wanneroo region until 15 January 2022.
Converging Currents contributor, artist Fiona Gavino, is best known for using textiles, fibres and natural materials to create sculptural, woven artworks that are both eye-catching and environmentally conscious.
For Converging Currents, Fiona worked with a group of local Aboriginal women known as the Koorliny Koort Boodja Yorgas to create Djinanging at Nature's Kwobidak (Looking at Nature's Beauty).
The artwork, made from natural plants and found objects from domestic settings such as the coast and local parks and gardens, sits in pride of place at the entry to the Wanneroo Gallery.
Koorliny Koort Boodja Yorgas member, Minyulo Bartlett, said the group of yorgas (the Noongar word for women) jumped at the chance to participate in Converging Currents.
"A lot of love and passion went into our work," Minyulo said. "Many of us had not done anything like this before but Fiona facilitated the work and taught us the skills.
"As we worked, we chatted and told stories. We gained new knowledge and learned many new skills."
Fellow yorga, Dianne Liddelow, said the piece was inspired by the many dialects of the Noongar nation, represented by banksia nuts in the artwork, and the many lakes near Wanneroo Road.
"This piece of art incorporates storytelling from Noongar people, stories which have been passed through the generations," she said.
"We have woven together Aboriginal places of significance with Dreaming stories and animals that relate to the coast and the land along the northern suburbs Indian Ocean coast.
"We chose the curved or circle shape because it is never-ending, and we can see whatever we want to see through the circle. The history and stories are timeless."
Converging Currents
Wanneroo Gallery
Upstairs at the Wanneroo Library and Cultural Centre
Exhibiting until 15 January 2022
Open Wednesday to Saturday, 10am to 4pm
More articles in the news archive.