Total fire ban - Wednesday 8 December 2021
DFES has declared a 24 hour TOTAL FIRE BAN for the City of Wanneroo on Wednesday 8 December 2021. The Fire Danger Rating is forecast as EXTREME. Further information
Home
Stay safe this swim season in the City of Wanneroo
Published Friday, 26th November 2021
As the weather begins to heat up, it's important to keep water safety top of mind whether you're at the beach, your local pool or at home.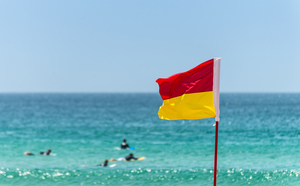 Wanneroo Mayor Tracey Roberts said water safety should be a priority for everyone visiting the City's aquatic centre or beaches or using private pools and spas this swim season.
"We go to great lengths to ensure our facilities and amenities are safe, working closely with Yanchep, Quinns Mindarie and Alkimos surf lifesaving clubs on beach patrols, and ensuring we have highly skilled lifeguards at our aquatic centre," she said.
"The City has recently reinstalled the Quinns Beach Swimming Enclosure, to provide peace of mind to members of the community who may otherwise not feel comfortable swimming at beaches.
"We also have Beach Emergency Number (BEN) signs installed at public beach access points along the City's coastline. Each sign features unique information that will help emergency services quickly identify beach locations in the event of a shark sighting, attack or other emergency.
"Wherever you choose to swim, it's critical to ensure everyone in the family knows how to swim and handle emergencies around water before you dive in."
In the lead-up to summer, the City is conducting inspections of private properties with pools to ensure compliant and effective safety barriers are in place.
Wanneroo Swimming Pool Inspector Stewart Franklin said unsafe and unsupervised swimming pools and spas were the most common location for children drowning in Australia, with the majority of incidents involving young children falling or wandering into a backyard pool.
"Poorly maintained fencing, propped-open gates and lack of self-latching gates all jeopardise pool safety," he said.
"Be vigilant. Parental responsibility is key. Don't wait until your pool inspection is due – check your barrier regularly."
The City of Wanneroo is reminding everyone who plans to enjoy the water this summer to keep the following water safety tips in mind:
Supervise children in pools and spas at all times.
Learn swimming and lifesaving skills.
Wear a lifejacket when boating, rock fishing or paddling.
Swim at patrolled beaches between the red and yellow flags.
Always read safety signs.
If you need help, stay calm and attract attention.
Avoid alcohol and drugs around water.
More articles in the news archive.