Home
City strengthens support for world-leading automation and robotics precinct
Published Thursday, 9th December 2021
The City of Wanneroo has strengthened its support for the Australian Automation and Robotics Precinct (AARP) in Neerabup.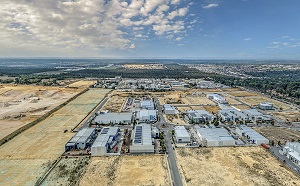 The transformational initiative has been added to the review of the City's Economic Development Strategy.
The 51-hectare precinct will be a major hub for testing and research into the latest developments in automation, remote operation and robotic systems.
Mayor Tracey Roberts said the City was proud to support the development of the facility, which will generate construction jobs while the precinct is built, and up to 5,000 ongoing jobs in the fields of robotics, automation and remote operations.
"Our focus is to support the development of this precinct to help attract more businesses to the area and contribute to employment self-sufficiency in the region by ensuring jobs of the future are available for our local workforce," she said.
"We are very excited the area has attracted this ground-breaking precinct, backed by a State Government investment of $20 million.
"With our population expected to exceed 370,000 people by 2041, it is important that we plan for the future and are prepared to meet the challenges of the coming decade.
"As an innovation precinct, Neerabup is destined to attract investment opportunities that will be able to support small to large-scale businesses in our developing northern corridor to benefit the wider community."
City of Wanneroo Chief Executive Officer, Daniel Simms, said the location of the precinct in Neerabup was an example of the City's advocacy strategy reaping benefits for the growing community.
"There is potential for the AARP to provide a long-term strategic employment cluster that will attract world class talent to the region and provide quality employment opportunities for local people," he said.
"Existing and proposed industrial development in Neerabup will ensure the precinct can grow and be supported by complementary industries in future."
On completion, the AARP will form one of the biggest test facilities of its kind in the world.
It will provide suppliers and operators of automation and robotics equipment or systems with access to specialist infrastructure, including test beds, a facility operation building and supporting research and development facilities.
More articles in the news archive.