Home
City announces exciting new Summer Events Season
Published Monday, 1st November 2021
Residents can look forward to a fun-filled summer with 10 free events running at locations across the City of Wanneroo from November to April.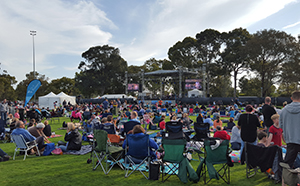 From lively concerts and carnivals to relaxed twilight markets, there is so much to see and do during the City's upcoming events season.
Mayor Tracey Roberts said the inclusive, community-focused events allow residents to connect safely and celebrate their vibrant local places.
"The City is delighted to be hosting a variety of local events over the summer season," Mayor Roberts said.
"Whether you are a market or music fan or simply love local produce, there is something for everyone to enjoy.
"From Girrawheen to Yanchep, Landsdale to Quinns Rocks, there is a fantastic event coming to a suburb near you!"
All of the events are free to attend, with no registration required. Find out more.
More articles in the news archive.