City phones down due to power outage
There is currently a power outage affecting areas of Wanneroo, Sinagra, Wangara, and Hocking. This is affecting inbound calls reaching us. Alternative ways of contacting the City
Home
City to host Symphony under the Stars
Published Sunday, 20th February 2022
Perth Festival is bringing the party to Yanchep's Splendid Park on 26 February for Symphony under the Stars, a free, family-friendly concert featuring the incredible Perth Symphony Orchestra.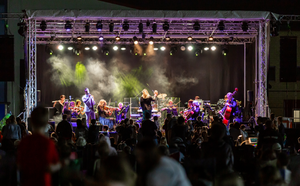 Renowned for performing an eclectic range of music, Perth Symphony Orchestra is sure to be a hit for both young and old, with a line-up of singalong tracks from family favourite films Shrek, the Jungle Book and The Greatest Showman, as well as chart-toppers from Katy Perry and Pharrell Williams.
Wanneroo Mayor Tracey Roberts said the concert would be the perfect opportunity for families to bring a picnic, sit back and enjoy an evening under the stars.
"Less than five minutes away from the iconic Yanchep lagoon, Yanchep's Splendid Park is the perfect location to embrace the theme of this year's Perth Festival, which is ocean, or 'wardan'," she said.
"With delicious food truck treats available and games to entertain children, Symphony under the Stars promises to be a wonderful evening out for the whole family."
Attendees will also be able to enjoy a range of pre-show entertainment and attractions, including performances from local singer Atida Gohwa, and an opportunity to have their photo taken with a koala at the Discover Wanneroo marquee.
Perth Festival Artistic Director Iain Grandage said he was excited to be partnering with the City of Wanneroo to bring Perth Festival to the City for the first time.
"The ocean is many things to many people – somewhere to have fun with friends, somewhere to cleanse yourself, somewhere to gaze into the setting sun and ponder the beauty of our environment," he said.
"It is a joy to bring the Festival into the City of Wanneroo, to celebrate the ocean in a place where people have such a connection to its beauty and the rewarding lifestyle it offers."
Symphony under the Stars is presented by Perth Festival and sponsored by Capricorn Beach Yanchep and PerthNow, and will be delivered in line with current State Government COVID-19 health and safety requirements.
Event details
5pm to 9.30pm, Saturday 26 February 2022
Splendid Park, Yanchep
Gates open for pre-show entertainment from 5pm. Perth Symphony Orchestra will take the stage from 7.30pm.
More articles in the news archive.