City phones down due to power outage
There is currently a power outage affecting areas of Wanneroo, Sinagra, Wangara, and Hocking. This is affecting inbound calls reaching us. Alternative ways of contacting the City
Home
Making active transport easier in the City of Wanneroo
Published Thursday, 17th March 2022
The City is seeking feedback on its Active Transport and Cycle Plan 2022/23 - 2025/26.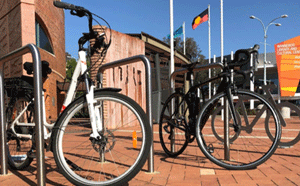 Wanneroo Deputy Mayor Brett Treby said the revised Plan has a renewed focus on all modes of active transport across the City, including cycling, walking and eRideables.
"At the City, we are committed to creating a safe, connected and reliable active transport environment for residents, commuters and visitors," he said.
"The new plan aims to improve access and facilities for cyclists, and looks at how we can create pathways to cater to walkers and riders alike."
Cr Treby said encouraging active transport was a focus for the City and its growing community.
"Cycling, walking and eRideables are environmentally-friendly transport options that offer a wealth of health and economic benefits for individuals and the community," he said.
"They also help to reduce congestion on roads and are a lower-cost, energy-efficient ways to travel.
"We want people to move around our City easily and safely, and we can only do this by delivering the infrastructure and strategies that make it a viable alternative to cars."
The new plan considers a traffic environment that links major activity centres in Wanneroo - such as schools, workplaces, community facilities and new residential developments - within 10km catchments.
"It will provide greater connection between people and places to help us deliver on our vision of creating a balanced and sustainable transport future," Cr Treby said.
The City's new active transport and cycle plan will build on the 2018/19 to 2021/22 iteration, which was shaped with extensive feedback from the community, and led to the development of the state-of-the-art cycling facility at Splendid Park in Yanchep, which is expected to be completed in late 2022.
It will complement the Western Australian Bicycle Network Plan and includes projects to be funded by the City, the Department of Transport WA Bicycle Network Grants Program, as well as other major State Government transport projects.
The draft Plan is available for public comment until 5 April 2022, prior to a report being presented to Council in June.
"Community input is incredibly important in getting this right. I strongly urge our residents and ratepayers to provide feedback during the public comment period," Cr Treby said.
Visit wanneroo.wa.gov.au/yoursay to provide your feedback on the plan.
More articles in the news archive.