City phones down due to power outage
There is currently a power outage affecting areas of Wanneroo, Sinagra, Wangara, and Hocking. This is affecting inbound calls reaching us. Alternative ways of contacting the City
Home
City awards tender for Splendid Park cycling facility
Published Tuesday, 22nd March 2022
The transformation of Splendid Park into a state-of-the-art cycling facility is one step closer, following the approval of a construction tender for the project at the City's March Council meeting.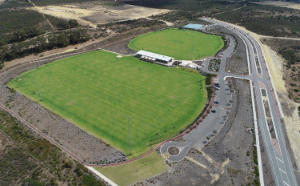 Wanneroo Council accepted a tender from Advanteering Civil Engineers for a fixed lump sum of $3,859,868 to develop the criterium-width cycle track at Splendid Park in Yanchep.
The works detailed in the tender include earthworks, CCTV, lighting, an electronic track timing system, a digital notice board, landscaping and associated site works.
Wanneroo Deputy Mayor Brett Treby said he was pleased to see the project progressing to the next stage, for both local residents and the northern suburbs cycling community, who have been strong advocates for the project since its inception.
"We saw just how passionately the community feels about having this facility built during the community consultation phase of the project," he said.
"There is a strong appetite in the northern corridor community for facilities that promote health and fitness and provide opportunities for people of all ages to engage in sports such as cycling."
Construction of the facility is expected to begin in April 2022 and the City has resolved to review the draft long-term capital works program and allocate an additional $1,230,500 across the next three financial years to fund the balance of the project.
"The City is grateful to have received commitments of $1.1 million from the Australian Government, through the Local Roads and Community Infrastructure Program and the Building Better Regions Fund, as well as a commitment of $400,000 from the State Government through the Department of Local Government, Sport and Cultural Industries, to help us deliver this project and provide the community with this fantastic, multi-use facility," Deputy Mayor Treby said.
The City will continue to explore additional state and federal funding options for the balance of the project.
More articles in the news archive.