City phones down due to power outage
There is currently a power outage affecting areas of Wanneroo, Sinagra, Wangara, and Hocking. This is affecting inbound calls reaching us. Alternative ways of contacting the City
Home
New Community Development Plan supports City's social focus
Published Monday, 28th March 2022
The City of Wanneroo Council has endorsed a new Community Development Plan (CDP) 2021/22 – 2025/26 with a strong focus on creating healthy, inclusive, connected and thriving local communities.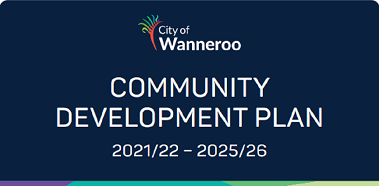 Mayor Tracey Roberts said the new plan delivered an integrated approach to community development, and built on the work of four previous City social plans – the Age Friendly Strategy, Early Childhood Strategic Plan, Youth Plan and Access and Inclusion Plan.
"As a Council, we recognise that our community is defined by the strength of its connections and how well we look after each other. We understand the importance of ensuring equity for our more vulnerable community members," she said.
"Shaped in consultation with the people of Wanneroo, this Plan provides a holistic framework that caters for all members of our community, to ensure everyone can contribute, be active, feel secure and belong.
"I would like to extend my sincere thanks to our community members, local organisations, Councillors and staff for their valuable contributions to the development of the new Community Development Plan."
City of Wanneroo Disability Access and Inclusion Reference Group member Andrew Fairbairn said he was pleased the City was taking a holistic view to disability access and inclusion with a plan that represented all groups.
"I can see this being really good for physical access across the board," Mr Fairbairn said.
"Ensuring access is being considered in all community development going forward will have a real benefit for not only wheelchair access, but also older community members and families with prams.
"It shows one simple change can improve the quality of life for many different groups."The Plan was open for community feedback in December 2021 and January 2022, with the online engagement portal receiving 710 page views from 258 different residents.
In line with the City's Strategic Community Plan and Social Strategy, the CDP sets out the City's social and community focus areas for the next four years:
Connection and inclusion – fostering a socially active, inclusive and supportive community
Wellbeing – supporting a safe, healthy and happy community
Lifelong learning – enabling a curious, creative and skilled community
Empowerment and engagement – building a culture of participation and leadership in the community.
The Plan builds on the previous work undertaken by the City to support specific community cohorts, including youth, seniors, those with a disability, and people from culturally and linguistically diverse backgrounds.
The Reconciliation Action Plan (RAP) and Regional Homelessness Plan (RHP) remain separate, as both have unique aspects that require a targeted approach.
More articles in the news archive.