City phones down due to power outage
There is currently a power outage affecting areas of Wanneroo, Sinagra, Wangara, and Hocking. This is affecting inbound calls reaching us. Alternative ways of contacting the City
Home
City challenges residents to 'recycle right' and win
Published Monday, 11th April 2022
The City of Wanneroo is challenging residents to examine their recycling habits in an effort to reduce contamination in recycling bins and decrease what goes to landfill.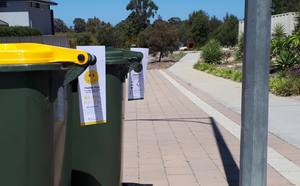 Two thousand houses across the City have been randomly selected to take part in household waste education campaign, The Great Recycling Challenge.
Wanneroo Mayor Tracey Roberts said the City is committed to improving waste management but needs the community's help.
"I know our community cares deeply about the environment. This is evident in the fantastic uptake of the City's new garden organics service, which has an incredible contamination rate of less than one per cent," she said.
"The Challenge is another opportunity for us to improve our waste management. The cleaner we make our waste streams, the better the outcomes for our community and our planet.
"Achieving zero contamination will allow the City to recycle 100 per cent of garden organics into high quality soil amendment products like compost. It will also enable us to recycle up to 95 per cent of yellow-lid bin materials into new products.
"I hope the households taking part will embrace the Challenge and see it as a fantastic opportunity to improve their waste sorting habits and help protect the environment."
Throughout the Challenge, members of the City's Community Waste Education team are conducting simple visual checks of selected kerbside bins and providing feedback on tags attached to bin handles.
Households that receive a 'thank you' tag are automatically entered into a draw to win a $100 gift card. All households who receive a 'thank you' tag throughout the Challenge will also be in the running to win one of five $410 cash prizes.
One of the first daily prize winners, Banksia Grove resident John Nanini, said he and his family were proud to be recognised for their efforts to improve their recycling habits and reduce household waste.
"It was a great surprise to have been chosen for this year's recycling challenge and we were so pleased to hear from the City that we are doing the right thing," Mr Nanini said.
"We've been making a conscious effort to reuse wherever possible, to avoid purchasing new plastics, and to save waste from landfill. We're even hoping to get a composter in the next few months.
"I think it's all about looking at where you can make good sustainable changes that will be manageable for the average family to maintain.
"I would encourage others to have a look at what options are out there and to see how they might be able to make small changes in their own household, and definitely to get the kids involved!"
Find out more about the Great Recycling Challenge.
More articles in the news archive.