City phones down due to power outage
There is currently a power outage affecting areas of Wanneroo, Sinagra, Wangara, and Hocking. This is affecting inbound calls reaching us. Alternative ways of contacting the City
Home
Supercars return to Wanneroo Raceway
Published Tuesday, 19th April 2022
The City of Wanneroo is proud to support the Bunnings Trade Perth SuperNight, Perth's first supercars round since 2019.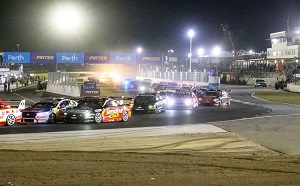 The two-day supercar extravaganza will take place at Wanneroo Raceway from 30 April to 1 May 2022, with V8 SuperUtes, Historic Touring Cars, Radical Sportscars and Supercars taking to the track across the weekend.
Wanneroo Deputy Mayor Brett Treby said the City was celebrating the return of the popular event with a money-can't-buy giveaway, thanks to Perth Supercars.
"The City is thrilled to see the Supercars back at Wanneroo Raceway and we are excited to announce that we will be giving away a once in a lifetime SuperNight prize pack," he said.
"One lucky fan will win weekend Sports Lounge access tickets for the entire event for themselves and a guest of their choice, plus a hot lap of the race track with a professional driver, a grid walk and a merchandise pack."
City of Wanneroo residents can enter the competition via the City of Wanneroo's Facebook page. The major prize, worth over $4,200, will be drawn on Tuesday 26 April, with 20 runner-ups to receive a free double pass for the weekend.
Deputy Mayor Treby said the City of Wanneroo was proud to host the world-class racing event.
"It is not only a fantastic event for the local community, but also very important for the local economy through the significant tourism opportunities it brings to both the City and the State," he said.
"The 2019 SuperNight event attracted over 50,000 spectators to the Wanneroo Raceway, with a further one million viewers tuning in to the live television broadcast from home.
"We are expecting the 2022 event to be equally as popular, and we are thrilled to be able to provide 42 members of the local community with tickets through this giveaway."
WA Sporting Car Club President Russell Sewell said he was excited to see the Supercars to Wanneroo Raceway.
"The Supercars last visited in 2019, as COVID kept them away from our great facility," he said. "What better way to help recover from the impacts of the pandemic than a return of Supercars!
"The circuit is looking fantastic, ticket sales are incredibly strong and we are sure there will be some great racing at the event."
More articles in the news archive.