City phones down due to power outage
There is currently a power outage affecting areas of Wanneroo, Sinagra, Wangara, and Hocking. This is affecting inbound calls reaching us. Alternative ways of contacting the City
Home
Safety education win for young people in Wanneroo
Published Thursday, 21st April 2022
Wanneroo Council approved the continuation of the City's sponsorship agreement with the Constable Care Foundation (CCF) for a further three years at its April meeting.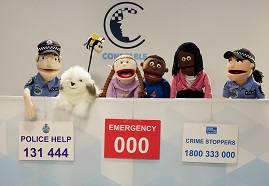 The renewed agreement will broaden the reach of CCF in schools and organisations within the City of Wanneroo to help influence long term positive social change in the community through childhood and youth empowerment programs.
Wanneroo Deputy Mayor Brett Treby said the partnership would strengthen the City's relationship with children and young people, other childhood and youth support services, as well as local stakeholders including schools, parents and families.
"The Constable Care Foundation is best-known for its widely-respected primary school puppet and theatre shows, and over the past six years they have expanded into secondary schools, releasing exciting and innovative technology-based safety initiatives and programs," he said.
"This a wonderful opportunity to partner with a recognised leader in safety education for children and young people throughout Western Australia.
"Tackling issues from discrimination to bullying, cyber safety, crime prevention, and mental health, the Foundation delivers innovative and evidence based performances that help students come up with constructive strategies and solutions for addressing problems."
The new agreement will focus on delivering three programs:
a Theatre-in-Education Program now called 'Constable Care' for primary schools and 'Youth Choices' for secondary schools
the Rapid Response Program; and
the Youth Choices Intensive Program for 12 to 17 year olds.
Between 2019 and 2021, Constable Care delivered 276 performances to 32,947 children and young people aged between four and 17 years across pre-primary, primary and secondary schools and other community venues within the City of Wanneroo.
CCF Youth Choices Program Manager Matt Stewart said local young people were already benefitting from the partnership with the City.
"With the City of Wanneroo's invaluable support, we recently held an intensive program at Butler College," he said.
"We had a great time talking about serious issues with the young participants, helping them to build interpersonal skills and create a sense of community and belonging – and making some memorable theatre together!
"The continuation of our partnership with the City means we can help make a significant difference to the lives of more local children and young people."
More articles in the news archive.