Home
Volunteers drive community spirit in the City of Wanneroo
Published Thursday, 19th May 2022
With National Volunteer Week (16 – 22 May) underway for 2022, the City of Wanneroo is taking the opportunity to thank the volunteers at the heart of our community.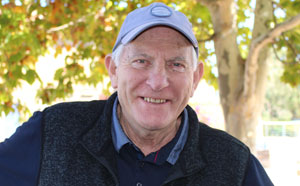 Deputy Mayor Brett Treby said volunteers were the lifeblood of communities and deserved to be celebrated for their contributions and community spirit.
"We're fortunate to have more than 400 volunteers, who generously give their time to help our teams in Library and Cultural Services, Conservation and Environment, Waste Services, Community Transport and the Volunteer Bushfire Brigades," he said.
"Their invaluable support means we can continue to offer a range of programs and services to our 216,000-strong community, and helps make the City of Wanneroo a great place to live, work and visit.
"It heartens me to know that despite the challenges of the past two years, so many people are still willing to volunteer and make a difference to our community."
Community Transport Volunteer Driver Michael Riddett said it was rewarding to give back to the community by helping local senior citizens stay connected, active and engaged.
Well known around his retirement village for helping those in need, Michael has also volunteered as a Community Transport Driver for the City since 2020, safely transporting people to activities at the Girrawheen-Koondoola Senior Citizens Club and more recently, the Kookaburra Club.
"I volunteer simply because I enjoy helping people in the community, and I know they really appreciate my assistance," Michael said.
The City is currently recruiting volunteers for a range of roles, including new drivers for the transport program. All you need is a C-class driver's licence and a few hours to spare on Tuesdays and Thursdays.
To register your interest, call 9405 5600 or email communitytransport@wanneroo.wa.gov.au
To browse all current volunteering opportunities at the City, and for information on how to apply, visit www.wanneroo.wa.gov.au/volunteers

More articles in the news archive.