Home
City 'uncovers' new recycling initiative
Published Thursday, 19th May 2022
A new partnership will see the City of Wanneroo trial a new method of recycling old pool covers to help reduce waste to landfill.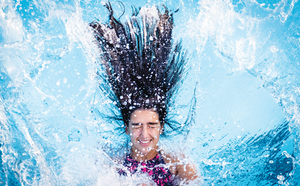 Currently, there are few recycling options for pool covers in the Perth metropolitan area, meaning most end up in landfill.
Thanks to a collaboration with Welshpool-based business, Daisy Pool Covers, City of Wanneroo residents can now drop-off their old pool covers at Wangara Greens Recycling Facility for free, using the recycling drop-off voucher issued with annual rates notices.
Covers will be recycled into a variety of products, including mining sample bags and builders film.
Deputy Mayor Brett Treby encouraged residents to make use of the trial to help the City reduce sending waste to landfill.
"With winter approaching, the City's 13,000 registered private pool owners might be looking to upgrade their pool's protection in the colder months," he said.
"This trial is part of the City's commitment to caring for our environment and protecting it for current and future generations.
"Our population is set to increase to 260,000 people by 2030, and this initiative is another positive step towards building an environmentally sustainable City for our residents now and into the future."
Daisy Pool Covers will collect all solar bubble style pool covers, regardless of manufacturer. Before you drop your cover off for recycling, please ensure it is free of organic matter such as leaves, and remove any cords or attachments.
This program will run until June 2023. Visit the Waste Facilities page to find out more about the initiative.
More articles in the news archive.