Home
Businesses perform better in Neerabup Industrial Area
Published Monday, 30th May 2022
Through the City's continued investment and development, the Neerabup Industrial Area is now an established and attractive base for existing and new businesses to locate, relocate and grow.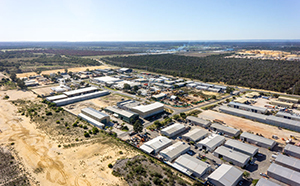 The development of the Neerabup Industrial Area has been a key strategic priority for the City for a number of years, with the site poised to provide long-term economic growth opportunities.
Throughout 2021/22, the City undertook resource extraction works to prepare the site for future industrial land subdivision, and secured state and federal funding for the upgrade of Flynn Drive, to improve access to the area.
The City is also completing a detailed financial analysis, business plan and detailed engineering design for a 16-hectare development.
The City's commitment to developing the area has motivated a variety of businesses to relocate to Neerabup, including local plumbing, gas, fire and electrical services business Banhams WA.
Paul Colliver, General Manager of Banhams WA, said the convenient links to major roads and railways was just one factor that influenced the decision to relocate.
"It was important for us to not only get somewhere that had everything on our doorstep right now, but also thinking long term as our business evolved," Mr Colliver said.
"Other companies thinking about looking to relocate to this area should consider the excellent transport links that Neerabup now has and the emerging growth on the industrial side."
Mr Colliver said the new location was proving popular with his team, who no longer have to commute by car to the city for meetings.
"Jumping on the train now is so much easier and it just makes so much of a difference to our day and just cuts that time down."
The City is also supporting the development of a 51-hectare Australian Automation and Robotics Precinct (AARP) in Neerabup, which is set to generate up to 5,000 ongoing jobs in the fields of robotics, automation and remote operations.
City of Wanneroo Chief Executive Officer, Daniel Simms, said the location of the precinct in Neerabup was an example of the City's advocacy strategy reaping benefits for the growing community.
"There is potential for the AARP to provide a long-term strategic employment cluster that will attract world class talent to the region and provide quality employment opportunities for local people," he said.
"Existing and proposed industrial development in Neerabup will ensure the precinct can grow and be supported by complementary industries in future."
More articles in the news archive.