Home
Local netballers score big with Quinns Rocks upgrades
Published Tuesday, 31st May 2022
A $212,000 investment has breathed new life into the Gumblossom Netball Courts in Quinns Rocks, with new court surfaces, netball hoops and basketball rings scoring points with local players.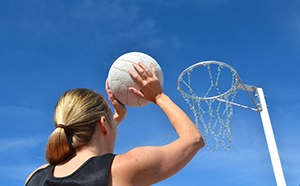 A clever re-design of the western court – which was a combined netball and basketball court – has created space for dedicated basketball hoops and netball rings.
Wanneroo Deputy Mayor Brett Treby said the upgrades were already a hit with local players.
"The re-design has allowed us to get more bang for our buck and now better caters for different sporting codes," he said.
"Time consuming backboard changes are a thing of the past, thanks to the new dedicated basketball hoops and netball rings, and players aren't the only ones who win with these upgrades. Watching from the sidelines is a lot more comfortable for spectators now, with a new shelter and seating in place."
Quinns Districts Netball Club president Pete Ainley said the new courts were a welcome improvement.
"No more struggling with turning the basketball boards around before every training session, smooth new surfaces to avoid injuries and the addition of a water fountain has been extremely well received by our juniors," he said.
The final touch to the courts is soon to come, with upgraded court lighting set to be installed in 2022/23.
More articles in the news archive.