Home
Landsdale lake views enjoyed from new viewing platform
Published Thursday, 2nd June 2022
Visitors to Warradale Park in Landsdale can now take in a closer view of the lake from a new jetty and viewing platform.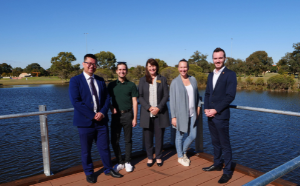 Wanneroo Deputy Mayor Brett Treby said the structure, which was completed in mid-April, would be a drawcard for the community.
"I know many locals have been looking forward to the re-opening of the Warradale Park jetty and viewing platform, which were designed to reduce maintenance costs and improve safety," he said.
"I'm delighted to welcome our community back to this inviting and inclusive space and hope our residents and visitors will enjoy the view."
The $248,000 upgrade includes an accessible seat, which is scheduled to be installed by the end of June.
More articles in the news archive.