Home
Three bin system a success for sustainability
Published Tuesday, 7th June 2022
In 2021/22, the City of Wanneroo rolled out the three bin system as part of its commitment to reducing the volume of waste sent to landfill.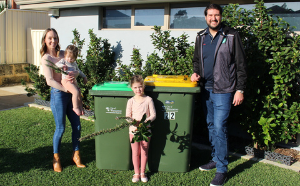 More than 60,000 new lime-green lid garden organics (GO) bins were provided to eligible households across the City. All households also had their general waste bin lids changed to red lids to meet the Australian Standard for Mobile Waste Containers.
City of Wanneroo Deputy Mayor Brett Treby said the City was pleased with how well residents had adapted to the new system.
"The implementation of the GO bins for organic waste will allow the City to transform an estimated 14,000 tonnes of clean green waste into high quality soil-enhancing products, such as mulch and potting mix every year," Cr Treby said.
"Since the rollout, we've already been able to divert a large amount of refuse away from landfill and it's fantastic to be able to do our part to help achieve WA's target of reducing waste to landfill by 70 per cent by 2025."
Banksia Grove resident John Nanini and his family are passionate about reducing the amount of waste they produce and have readily embraced the new system.
"The rollout of the three bin system was great for our family, and using the green bin became second nature super quickly," Mr Nanini said.
"It's really nice to know that our green waste is going to a good cause, rather than going to landfill.
"We've been making a conscious effort to save waste from landfill after finding ourselves paying more attention to the amount of waste we produced while we were working from home over the past couple of years.
"I would encourage others to have a look at what options are out there and to see how they might be able to make small changes in their own household to reduce waste, and definitely to get the kids involved!"
Costs associated with the implementation of the new three bin system were subsidised by the WA State Government Better Bins program (administered by the Waste Authority), which along with the cost savings acquired through greater material diversion from landfill meant that residents incurred no increases to waste service charges for the three bin rollout.

More articles in the news archive.