Home
Trailer popular with young people in Wanneroo
Published Friday, 17th June 2022
The City of Wanneroo's Childhood and Youth Services trailer has been wheeled out at events and community spaces across the City from Yanchep to Girrawheen and is proving to be a hit with young locals.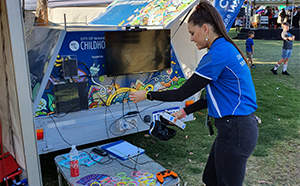 Launched at the start of the year, the trailer is used for youth outreach at the City's parks and skate parks, as well as to carry out school holiday programs in community spaces and at events such as the recent Bunnings Trade Perth SuperNight at Wanneroo Raceway.
Since January, over 700 young people, their families and community members have visited the trailer at events.
Deputy Mayor Brett Treby said the trailer was part of the City's commitment to providing safe spaces where young people can socialise, build friendships and access support and associated services.
"Young people between 9 and 25 years old make up nearly a quarter of the City of Wanneroo's population," he said.
"That is almost 50,000 young people now and this number is growing every year. By 2026, approximately 67,000 young people will call the City of Wanneroo home, and it's critical we provide opportunities and support that helps them connect with and participate in their communities."
Youth program officer David Perry said Childhood and Youth Services aimed to provide a safe environment for young people to socialise and access support.
"We roll the trailer out at locations where we think it will have the biggest positive impact to complement the important work of the City's four bricks-and-mortar youth centres – Clarkson, Girrawheen-Hainsworth, Wanneroo and Yanchep," he said.
"The response from our local young people has been fantastic. They love our mobile phone charging station and like the trailer visiting their local parks as we provide food, water, music, seating and games."
David said local parents' reaction to the trailer had been overwhelmingly positive.
Donated to the City by the Wanneroo Agricultural Society, the trailer features sports equipment, games, a barbecue, PlayStation and television.
More articles in the news archive.