Home
Local business reaps benefits of mentoring scholarship
Published Monday, 20th June 2022
A Mindarie resident's small business has gone from strength to strength after the City of Wanneroo funded her placement in the Curtin Ignition program.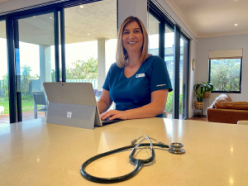 The Curtin Ignition Program, led by Curtin University, helps aspiring entrepreneurs, academics and corporate innovators trial and prepare their business idea for the market.
The City is offering two fully funded scholarships for the 2022 program – an intensive, one week education program.
Nurse Nicola Cuthbert took part in last year's program and said the scholarship helped her launch her business, Still Me, a service that allows carers to create a more meaningful and engaging experience for residents and patients.
As a single parent, Ms Cuthbert found it difficult to fit a busy nursing career around school drop-offs and found she was having to rush patients' appointments.
"I wanted to start my own business but didn't know where to start – the Curtin Ignition Program covered absolutely everything," she said.
"They show you how to pitch to investors, how to handle marketing, branding, dealing with finances and creating business plans. I am still in contact with my mentor, the contacts I made during the course were incredible."
In November last year Ms Cuthbert launched aged care business Still Me, initially a one-woman operation featuring flexible working hours.
She has now hired three staff members and Still Me has evolved to deliver 'person centred' services to aged care and NDIS clients such as wound care, nursing support, welfare checks, assessments and dementia support.
Wanneroo Deputy Mayor Brett Treby said the City was delighted to provide these scholarships as strong businesses with high growth potential are an essential part of the growing Wanneroo community.
"We encourage businesses and residents wanting to develop an innovative business idea or concept to take up this exciting opportunity," he said.
The Curtin Ignition Program runs from 4 to 9 September 2022 and eligible residents can apply online at curtin.edu/ignition before 5pm Friday 15 July.
More articles in the news archive.