Home
City seeks feedback on Urban Forest Strategy
Published Monday, 4th July 2022
The City is calling on the community to have their say on the draft Urban Forest Strategy.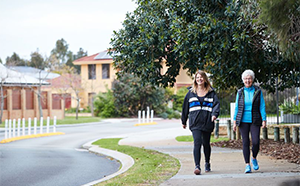 The draft Strategy was developed in consultation with the Councillors and community members on the City's Environmental Advisory Group, with the aim of protecting, retaining and improving the City's canopy cover and vegetation.
Wanneroo Deputy Mayor Brett Treby said data from the City's street tree audit informed the Strategy, providing an in-depth understanding of the City's current coverage and opportunities to enhance canopy cover across the City in future.
"The City's overall tree canopy cover is currently sitting at 9.88 per cent, with higher percentages of canopy cover in older, more established suburbs such as Wanneroo and Yanchep, and lower percentages in newer suburbs such as Jindalee and Alkimos," Cr Treby said.
"The draft Strategy provides a framework for achieving a total canopy cover increase of 15 to 20 per cent by 2040."
The Strategy also addresses heat islands – urbanized areas that experience higher temperatures than outlying areas due to structures such as buildings, roads, and other infrastructure absorbing and re-emitting the sun's heat.
"The Strategy proposes to focus the City's annual tree planting program in suburbs with less than 5 per cent canopy cover, as well as areas with identified heat islands, to achieve the greatest impact," Cr Treby said.
"This is a pragmatic strategy that supports the City's goal of continuous improvement in this area and I look forward to hearing the community's thoughts on it.
"I encourage our community to provide their feedback during the consultation period."
City of Wanneroo Environmental Advisory Group Chairperson Craig Butt said the document was one of the most important strategies for the City's future.
"It identifies the extent of our urban forest and natural vegetation and more importantly, areas that can be improved and enhanced through targeted revegetation and tree planting," he said.
"We are confident that the Strategy will provide better protection for existing areas of urban forest, and it demonstrates the City's commitment to maintaining, and where possible enhancing, the unique natural beauty of our City.
"On behalf of the Environmental Advisory Group and the broader community, I would like to thank the City of Wanneroo team for developing such a comprehensive strategy."
The draft Strategy is available for public comment until 27 July 2022, prior to a report being presented to Council later this year.
Find out more about the draft Urban Forest Strategy at https://www.wanneroo.wa.gov.au/consultations/1068-city-of-wanneroo-draft-urban-forest-strategy
More articles in the news archive.