Home
Council endorse new Active Transport Plan
Published Thursday, 7th July 2022
The City of Wanneroo Council has endorsed a new Active Transport Plan 2022/23 - 2025/26 with a focus on creating a safe, connected and reliable active transport environment.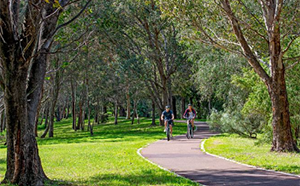 The Plan aims to deliver infrastructure and strategies that encourage the community to consider active modes of transport as a sustainable alternative to cars.
Wanneroo Deputy Mayor Brett Treby said he was pleased to see the community support for the new Plan during the recent consultation period, with more than 130 residents taking the time to provide their feedback.
"It's clear that active transport is a priority for our residents, and their considered submissions have helped to inform the final draft of the Plan," Cr Treby said.
"We know there is a clear upward trend of active transport use across both the City and the wider metropolitan Perth region.
"The 2021 National Cycling Participation survey for WA showed that 96.6 per cent of respondents walk outside their homes as a form of exercise in a typical week.
"The survey also showed that while 21.4 per cent of respondents rode a bike weekly, an additional 40 per cent currently don't ride, but would like to.
"This Plan will guide the development of future infrastructure that will enable our residents to feel safe and confident when using sustainable forms of active transport, such as walking, cycling and eRideables."
Northern Beaches Cycling Club President Dr Chris Howard said the City was leading the way in providing alternatives to getting in the car.
"The Active Transport Plan goes a long way towards safe, attractive networks that will encourage more people to get outside and get active," Dr Howard said.
"There's never been a better time to switch some trips from car to bike."
The new Active Transport Plan supports the delivery of the Department of Transport Long Term Cycle Network for Perth and Peel.
Find out more about the Active Transport Plan 2022/23 - 2025/26 at wanneroo.wa.gov.au/bicycleplan
More articles in the news archive.