Home
Wanneroo Aquamotion safety measures make a splash
Published Thursday, 7th July 2022
Wanneroo Aquamotion has taken out the Aquatic Facility Safety Award at the inaugural WA Aquatic Recreation Industry Awards.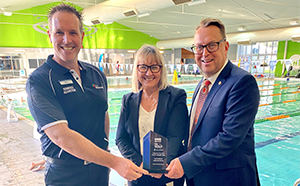 The Leisure Institute of Western Australia awards celebrate individual and organisational excellence in the State's aquatic recreation industry.
The Aquatic Facility Safety Award recognises commitment to continuous improvement of aquatic health and safety outcomes through outstanding safety culture.
Deputy Mayor Brett Treby said the award was well-deserved, following an impressive result on Wanneroo Aquamotion's recent Royal Life Saving Safety Audit – one of the highest safety standards in Australia.
"Congratulations to the fantastic team at Wanneroo Aquamotion on this well-deserved recognition of their exemplary technical knowledge and passion for the safety of customers and staff," he said.
"I'm incredibly proud to see the City recognised as leaders in this field. The team's commitment to continuous improvement and the highest safety standards mean our community can enjoy a fantastic day in the water knowing they are in safe hands."
Among the innovative safety features that earned Wanneroo Aquamotion the Aquatic Facility Safety Award is a web-based program that tracks first aid data and helps tailor lifeguard training to real-life scenarios.
Centre staff also complete a range of practical safety courses such as hazardous substance training to ensure the safe handling of chemicals such as chlorine, as well as extensive health and wellbeing training.
More articles in the news archive.