Home
Roos jump into Wanneroo history
Published Wednesday, 13th July 2022
A generous donation from the Wanneroo 'Roos' Junior Football Club is now on display at the Wanneroo Regional Museum.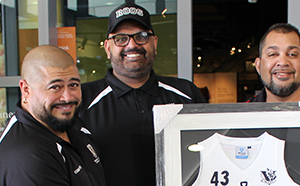 The club's first Indigenous Round jumper, designed by Whadjuk-Yuet-Ballardong artist Kevin Bynder, was unveiled at the museum in time for NAIDOC Week 2022 (3 - 10 July).
An avid football fan and celebrated artist whose work depicts Perth's landscape, animals and vegetation, Kevin has designed uniforms for more than 30 sporting clubs and associations across Australia, including the West Coast Eagles, Fremantle Dockers and Port Adelaide football clubs.
Wanneroo Junior Football Club commissioned Kevin to capture his interpretation of the club's history for their first Indigenous Round jumper.
Vice President Dean LaFrenais said it was a very special moment in the club's history.
"Wanneroo Junior Football Club was established in 1964, making it one of the oldest junior clubs in the Perth metropolitan area," he said.
"Kevin's artwork brings the story of the club to life and celebrates the significant Aboriginal heritage of our club – its people and our home at the Wanneroo Showgrounds.
"This is something all our players, parents, guardians, sponsors, members and supporters should be proud of."
The jumper features boomerangs representing past and current players and staff, as well as those who, like boomerangs, keep coming back to the club to coach, be part of the committee or as supporters.
A large circle represents the football club, with the semi-circles around it depicting male and female footballers, staff, coaches and supporters.
Lake Joondalup and Lake Jandabup feature, surrounded by kangaroo tracks representing the club's nickname, the Roos.
Hundreds of dots represent supporters, players and staff who have passed on, but whose spirits linger around the club, as well as the spirit of the Aboriginal Ancestors who continue to dance and celebrate and look after those who play on the land. The club's 55 life members, some of whom continue to work tirelessly for the club, also appear, with the Aboriginal Ancestors who walked this land.
Mr LaFrenais said the design was a huge success with the playing group.
Nine-year-old player Jaxon said he felt like the jumper gave him super powers, helping him run faster, jump higher and kick more goals.
For more information, visit wanneroo.wa.gov.au/wannerooregionalmuseum
More articles in the news archive.