Home
Construction underway on City's premier cycling facility
Published Monday, 18th July 2022
Works are progressing on the Splendid Park cycling facility in Yanchep, which on completion will feature a full criterium-width track that winds its way around the park's existing ovals and sport court facilities.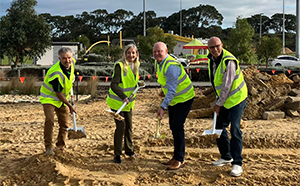 The cycling facility will be the first of its kind in the State and will support casual riding, racing, bike education and bike riding events.
Deputy Mayor Brett Treby said it was exciting to reach the construction stage of the project, for both local residents and for the northern suburbs cycling community, who have been strong advocates for the project.
"The community's passion for the Splendid Park cycling facility has been clear from the start – when we first brought the concept for the new track to the community, over 97 per cent of respondents were in support of the development," he said.
"The cycling track itself has been designed with criterium specifications in mind and will allow all levels of cycling, from beginners to elite riders, to enjoy the track."
The facility is set to attract State-wide sporting tourism as its dimensions, together with a track timing system, purpose-built registration area and event hub, will make it a premier venue for cycling events.
The City plans to use up to $2.2 million provided by the Australian Government, through the Local Roads and Community Infrastructure Program and the Building Better Regions Fund, as well as $400,000 from the State Government through the Department of Local Government, Sport and Cultural Industries to help deliver the facility.
Construction is expected to be finished by the end of 2022.
More articles in the news archive.