We are currently receiving a higher volume of phone calls than usual
Residents can avoid the queue by accessing our online services. Online services and payments
Home
City supports development of local business ideas
Published Wednesday, 10th August 2022
Two local entrepreneurs have been awarded City of Wanneroo funded scholarships to the 2022 Curtin Ignition Program.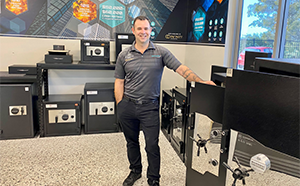 The intensive, one-week education program, led by Curtin University, helps entrepreneurs, business people and innovators trial and prepare their business idea for the market.
Mindarie resident Danette de Jager was awarded a place on the program for her Charleeboo Shoes concept – a range of footwear designed for kids with social anxiety.
The shoes are designed to be fun and contemporary, with a range of 3D characters, or travel mates, to accompany the wearer.
Ms de Jager said the footwear line was developed to help her daughter Charlee cope with social anxiety at a young age.
"Charlee was a very shy toddler struggling to make friends, always clutching her soft toys by my side – her travel mates gave her confidence to play in crowds and also sparked conversations among the children," she said.
"Through the Ignition program, I hope to learn to find investors and funding, learn a strategy to pitch to investors, fine-tune a business plan and learn marketing strategies."
Safe Central's Adam Burling was also selected to develop a new product line that extends his existing range into a new market.
Established in Wangara in 2011, Safe Central delivers high quality and intelligently designed safes and security products to the Australian market.
Mr Burling said he hoped to use the mentoring program to develop a clear and achievable business development plan and strengthen the Safe Central marketing strategy.
"I think the City's sponsorship of this program is a very clever idea for the development and improvement of the local business community," he said.
"I would never have thought to seek the kind of education that Ignition aims to provide, but through the networking experience I have found within the City, I have been presented with an opportunity to grow and develop my business further than I would have been able to on my own."
Deputy Mayor Brett Treby said he was proud the City's ongoing collaboration with Curtin University to offer the scholarships for the past seven years.
"Small businesses form the backbone of our community and the creation of local jobs is a key focus of our economic development strategy," he said.
"Through this scholarship we are supporting local entrepreneurs to transform their innovative ideas into successful reality in the business world."
The Curtin Ignition Program runs from 4 to 9 September 2022.
For more information on future opportunities, such as business support and scholarships offered by the City of Wanneroo, sign up to our business e-newsletter
More articles in the news archive.