Home
Upgrades to modernise Clarkson Youth Centre
Published Wednesday, 10th August 2022
Enhanced accessibility will be a key feature of the upgraded Clarkson Youth Centre, with improvements to the facility to continue this financial year.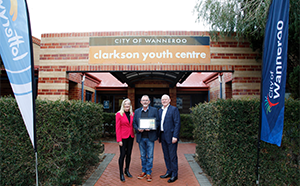 The $1.5 million project will include a complete revamp of the area, with the addition of accessible study and kitchen spaces, a new lounge area, function room with timber flooring and universal access toilet facilities.
New energy efficient appliances, LED lighting and smart technology in meeting rooms will also be installed to future proof the building, while the centre's main entrance will be relocated to better connect the building with the outdoor facilities, including the pump track and adjoining skate park.
Wanneroo Deputy Mayor Brett Treby said the project would provide local young people with an updated, inclusive community hub.
"The Clarkson Youth Centre is now 20 years old and requires upgrades that will cater for the needs of our growing community of young people," he said.
"More than 20 per cent of the City's population is aged between 10 and 24, and our youth centres provide a safe environment for our young people to socialise, join in recreational activities and learn more about the many important services available to help them connect, grow and thrive in their local community.
"The upgrade of the centre aligns with the goals and key priorities set out in the City's Strategic Community Plan, which aims to create an inclusive and accessible City with places and spaces that embrace all."
Federal Member for Pearce Tracey Roberts said the Federal Government was proud to contribute funds to the revitalisation of a much loved centre.
"With the growing amount of young families and youth in Pearce, it's important to ensure we provide infrastructure and community facilities for all to enjoy," she said.
"I look forward to working with the State Government and the City of Wanneroo on this important project."
State Member for Burns Beach Mark Folkard said the upgrades to the Clarkson Youth Centre would help modernise a key community space.
"The updated community hub will ensure young people have an inclusive, vibrant, and safe location to engage with the community and entertain themselves," he said.
"The centre will serve as a fantastic local facility to help foster a sense of community by giving youth an environment to engage with local activities."
The $1.5m project was jointly funded by the Australian Government and Lotterywest. Australian Government funding of $1 million was provided through the Local Roads and Community Infrastructure (LRCI) Program, which supports local governments to deliver priority local road and community infrastructure projects across Australia, supporting jobs and the resilience of local economies to help communities bounce back from the COVID-19 pandemic.
The next stage of the project will see a tender awarded for the construction of the upgrades, with a proposed project completion date of June 2023.
More articles in the news archive.