Home
City wins gold at reporting awards
Published Friday, 19th August 2022
The City has been recognised for its commitment to transparency with its sixth Gold Award and second consecutive Best of Industry Sector Award at the 2022 Australasian Reporting Awards (ARA).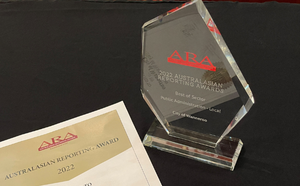 The ARA are the leading benchmark in government and corporate reporting, with Gold Award winners regarded as producing model reports for other organisations to follow.
The Gold and Best of Industry Sector Awards, in which the City was recognised in the Public Administration - Local category, recognise organisations' commitment to continuous improvement and effective communication, sensitivity and responsiveness to stakeholders, attention to detail and accuracy, and dedication to achieving and improving upon standards.
Award adjudicators said the City's 2020/21 report "thoroughly explained all aspects of the Council's performance at an exceptionally high standard, and openly discussed challenges and disappointments, and looked forward to the year ahead".
The City's 2020/21 Annual Report is guided by the recently adopted Corporate Business Plan 2022/23- 2025/26, which details how the City will practically achieve the vision set out in the Strategic Community Plan 2021-31.
For more information about the ARA, visit www.arawards.com.au.
More articles in the news archive.