Home
Wanneroo's firefighting capacity increases
Published Monday, 29th August 2022
A new mobile forward command trailer will add to the firefighting capabilities of the Wanneroo Central Bush Fire Brigade.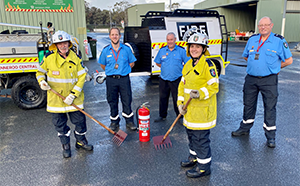 The 75-strong volunteer brigade received a $30,000 Caring for Our Communities grant from the State Government to purchase the vehicle, which will help with fire mitigation activities across the City and support major incidents.
The mobile forward command trailer will add to the brigade's three light tankers and two heavy duty appliances.
The vehicle is a great asset and will support the essential services of the City's bush fire brigades.
The City of Wanneroo is set to be home to more than 285,000 people by 2031.
As our community continues to grow, volunteer firefighters' efforts to keep our communities safe, raise awareness of bushfire management plans and educate about emergency preparedness is increasingly important.
At Quinns Rocks Bush Fire Brigade, $50,000 was secured through the State Government's Caring for Our Communities funding for training equipment and personal protective equipment.
This year, 190 firefighting volunteers across our four brigades responded to a total of 292 incidents across the State, including 88 incidents in the City of Wanneroo.
More articles in the news archive.