Extraordinary Council Election 14 December 2022 (North-East Ward)
To view the profiles of candidates and election notice for the upcoming Local Government Election, please visit the Extraordinary Election webpage
Home
Cycle to the City's Bike Month Breakfast
Published Monday, 10th October 2022
Local cyclists and active commuters are invited to celebrate WA Bike Month 2022 at a free breakfast on 21 October.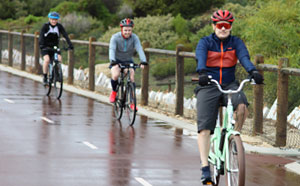 City of Wanneroo Mayor Linda Aitken said the breakfast was an opportunity for local residents and commuters to connect and learn about the benefits of active transport.
"Active transport, walking, cycling and eRideables are healthy and environmentally-friendly activities that can be enjoyed by people of all ages," Mayor Aitken said.
"The City's newly endorsed Active Transport Plan 2022/23 – 2025/26 demonstrates our commitment to creating opportunities that encourage community wellbeing and active and healthy lifestyles.
"This event is a great opportunity for the community to get their helmets out and get involved.
"Walk or cycle over to the event to enjoy a delicious breakfast with fellow cyclists and active commuters in celebration of WA Bike Month."
The Active Transport Plan 2022/23 – 2025/26 guides the development of future infrastructure across the City, with the aim of creating a balanced and sustainable transport future, where residents feel safe and confident using sustainable modes of active transport.
City of Wanneroo Bike Month Breakfast 2022 details
Date: Friday 21 October 2022
Time: 6.30am to 8.30am
Location: Corner of Joondalup Drive and Wanneroo Road, at the eastern end of Drovers Place.
RSVP: Residents can register to attend via Facebook.
Attendees can choose between a bacon and egg roll or fruit for their free breakfast, with bottled water and juices also provided. A coffee van will also be on-site with complimentary coffees for the first 100 attendees.
There will be bicycle parking available and a mechanic on-hand to perform bike checks.
WestCycle's WA Bike Month is supported by the Department of Transport.
More articles in the news archive.