Home
Wangara security upgrade set to help prevent criminal activity
Published Tuesday, 18th October 2022
Local businesses and residents will benefit from 13 CCTV smart poles soon to be installed across Wangara.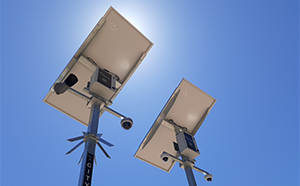 The cameras will be used to help combat antisocial behaviour and deter and solve crime in collaboration with local police.
The technology will have Automatic Number Plate Recognition, which supports road safety by helping identify offending vehicles and drivers and helps deter, detect and disrupt illegal activity.
The Wangara Industrial Area New CCTV Network project was jointly funded by the Australian Government, which committed $1,224,000, and the City of Wanneroo.
Mayor Linda Aitken said the project showed the City's commitment to community safety.
"This project will upgrade our CCTV capability and enhance safety in the City, creating a creating a safer environment for our businesses, residents and visitors," she said.
"The safety of our community is very important and this technology can help prevent antisocial behaviour and deter offenders."
Federal Member for Pearce Tracey Roberts said feedback has identified CCTV helps residents to feel more secure.
"Members of the community have raised with me the importance of safety within their neighbourhoods, and are always willing to meet to articulate their concerns and discuss opportunities," she said.
"I am pleased that the Federal Government has committed funding for this CCTV technology to support the important work of the Wanneroo Police and the City of Wanneroo, with the focus on keeping our community safe."
Wanneroo Police Station officer-in-charge Mo Livingstone said the use of CCTV technology in the fight against crime and antisocial behaviour was the "best thing since sliced bread".
"We work very closely with the City of Wanneroo and local residents to keep the community safe and CCTV is a great asset in these efforts," he said.
"From a police perspective, it is also a great investigative tool and resolves incidents a lot faster and more efficiently."
Local business Stiles Electrical Services has been engaged to carry out the installation which is expected to be completed by January next year.
More articles in the news archive.