Extraordinary Council Election 14 December 2022 (North-East Ward)
To view the profiles of candidates and election notice for the upcoming Local Government Election, please visit the Extraordinary Election webpage
Home
Have your say on Rotary Park Play Space upgrades
Published Wednesday, 12th October 2022
The City of Wanneroo is calling on residents to have their say on a concept design for upgrades to Rotary Park Play Space.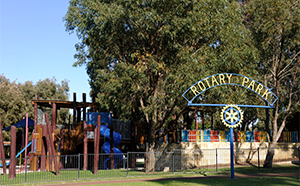 Residents were encouraged to help inform the concept design during an initial community consultation period, which ran from 1 December 2021 to 31 January 2022.
Based on the previous consultation, proposed improvements include enclosing the park to improve safety, refurbishing an existing tree house, adding new all ages and abilities play equipment and shade sails in one play area and installing nature play elements in a second play area.
City of Wanneroo Mayor Linda Aitken said the concept design catered for a broad range of ages and abilities while maintaining the feel and functionality locals love.
"There's nothing like hearing the sound of happy children playing, and with families making up 40 per cent of the City's residents, it's important that we continue to provide inviting, safe and inclusive open spaces for our community," Mayor Aitken said.
"The amenities currently on offer at Rotary Park are much loved by locals. These enhancements will ensure the park meets future needs, and give local families more opportunities to have fun and connect for years to come.
"I encourage our community to have their say on the concept design to help reinvigorate Rotary Park Play Space for all to enjoy."
Until 6 November, community members can have their say on the concept design via the City of Wanneroo's Your Say hub.
More articles in the news archive.