Home
Celebrate our diverse City at Wanneroo Festival
Published Wednesday, 26th October 2022
Take a trip around the world at Wanneroo Festival on Saturday 29 October.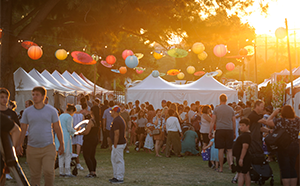 This free, family-friendly event will celebrate the City of Wanneroo's multicultural community with colourful cultural performances, mouth-watering food trucks, brilliant live music and delightful market stalls.
Walk down the 'Global Laneway' to try delicious traditional Polish, Japanese and Middle Eastern treats, try your hand at African drumming and experience exquisite origami and henna art.
Head to the children's zone for an awesome array of rides, inflatables and animal attractions, plus special guest appearances from your favourite movie characters, including Anna and Elsa.
The fun-filled festival will be capped off with a daring drone display that has been developed in collaboration with local cultural groups.
Wanneroo Mayor Linda Aitken said the festival is an opportunity for the City to celebrate its diversity.
"The City would not be the vibrant and progressive place it is today without the contributions from its multicultural community," Mayor Aitken said.
"I invite everyone to come along to Wanneroo Festival to honour and celebrate all the different cultures of our residents who proudly call the City of Wanneroo home."
Wanneroo Festival is sponsored by Lotterywest.
Event details:
4pm to 9pm, Saturday 29 October 2022
Wanneroo Showgrounds, Wanneroo
Parking is available at the Wanneroo Showgrounds with access off Ariti Avenue.
More articles in the news archive.