Home
Church Street shared path open for business
Published Wednesday, 16th November 2022
Wanneroo Primary School students hit the pavement with their bikes, scooters and rollerblades last week to celebrate the official opening of the new Church Street shared use path in Wanneroo.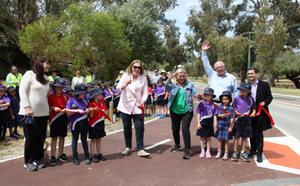 The 700-metre path, which stretches from Wanneroo Road to Scenic Drive, was recently upgraded to a three-metre wide red asphalt path that can now be enjoyed by walkers, joggers and bike riders.
Wanneroo Mayor Linda Aitken said the upgrade of the path, which was co-funded between the City and the Department of Transport under the WA Bicycle Network Grants Program, would provide local residents and commuters with a high quality connection to workplaces, businesses and parks in the Wanneroo town centre.
"This pathway is the latest in the string of shared path upgrades across the City, which have been implemented in line with our Active Transport Plan," Mayor Aitken said.
"It's another step towards achieving the City's strategic goal of creating a safe, connected and reliable active transport environment that allows people to move around easily and feel safe in public places.
"We welcome the State Government's generous contribution of $196,749 to allow us to deliver this upgraded pathway for our community."
Minister for Transport the Hon. Rita Saffioti MLA said the State Government was committed to working collaboratively with local governments to provide safe and accessible active transport infrastructure for people of all ages and abilities.
"We are pleased to have been able to support the City of Wanneroo in enhancing recreational, commuter and tourism riding, and walking experiences for their residents," Transport Minister Rita Saffioti said.
"There are huge benefits to walking and riding for everyone, which is why the WA Government continues to add to its record funding of bike and pedestrian infrastructure through the WA Bicycle Network Grants Program."
Find out more about the City's Active Transport Plan 2022/23 - 2025/26.
More articles in the news archive.