Extraordinary Council Election 14 December 2022 (North-East Ward)
To view the profiles of candidates and election notice for the upcoming Local Government Election, please visit the Extraordinary Election webpage
Home
Volunteers celebrated for service to the community
Published Thursday, 10th November 2022
City of Wanneroo heritage and library volunteers were recognised at a function at the Wanneroo Civic Centre last week.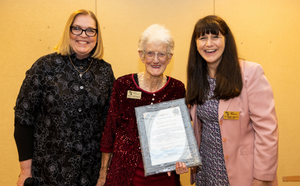 Mayor Linda Aitken said the invaluable efforts of volunteers helped make Wanneroo a welcoming and friendly place.
"Our volunteers are the backbone of our community, and part of what makes the City of Wanneroo a great place to live," she said.
"They help the City deliver a wide range of programs and services that promote community connection and a sense of belonging, from teaching children about Wanneroo history to preserving the City's pioneering past and rich history, to supporting cultural activities to help keep the arts alive and thriving.
"On behalf of our residents, I would like to thank all of our volunteers for generously giving their time and helping create a vibrant and inclusive community."
The City has 500 active volunteers, including the 71 volunteers in heritage and libraries.
Last week's function recognised volunteers from Buckingham House, Cockman House, the Community History Centre, City libraries, the museum and the gallery.
The following volunteers were awarded with the City's Volunteer Excellence Award for their invaluable assistance:
Julie Stephens, It's All About Play/It's All About Stories programs, Clarkson Library
Carol Kennet, Books on Wheels, Clarkson Library
Susan Marriott, Books on Wheels, Clarkson Library
Jess Aloe, Girrawheen Library
Rahmah Bee Abdul Hameed, It's All About Play, Girrawheen Library
Carolyn Bye, Wanneroo Gallery
Catherine McKenzie-Murray, Buckingham House
Larraine Ferdinands, Books on Wheels, Wanneroo Library.
Retiring volunteer Alex La Corte was also recognised for his contributions as a volunteer for the English Conversation Group at Clarkson Library for the past eight years.
This year's event included a special tribute to Freeman of the City, Margaret Cockman.
The great granddaughter of one of the City's founding families, Margaret has lived in Wanneroo all her life and has dedicated many years of service to the local community, including more than five decades working in local government until her retirement in 1996.
Without Margaret, many associations and community organisations in the cities of Wanneroo and Joondalup would not exist.
Margaret was recognised for her community work in 1990 when she received the Medal of the Order of Australia and again in 2001 when she was awarded the Centenary Medal. She received the title of Freeman of the City of Wanneroo in 1995 for her work in service of the community since 1946.
More articles in the news archive.