Website issue - Near Me functionality
The Near Me feature on the City's website is currently not functioning. We are investigating and hope to have it back online as soon as possible.
Home
Local golf courses to offer fun for the whole family
Published Wednesday, 7th December 2022
The City of Wanneroo has appointed Belgravia Health and Leisure Group to run the Carramar and Marangaroo golf courses.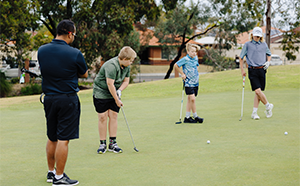 Belgravia's successful tender submission provides opportunities for the future of the two golf courses, and aligns with the City's Golf Courses Strategic Plan to make them more appealing to a wider range of users, including families.
Belgravia Leisure's WA State Manager Rohan Gunton said the company is committed to supporting the local community and economy.
"We look forward to working with current resident clubs and extending the club experience to offer a range of inclusive programs including Golf Australia's Get into Golf Program for All Abilities, Women and Seniors," he said.
"Being involved in the local community is important to us, with potential offerings like our 'Come and Try' Golf Days, accredited community instructors offering inclusive coaching, fundraising events and more."
The City is grateful to outgoing operators DC Golf, in particular Tim Crosbie and Robert Farley, for their contributions to generations of golf at the courses and to our local community.
The City has worked closely with DC Golf and Belgravia Health and Leisure Group throughout the transition to ensure services continued uninterrupted. Existing services, including hospitality, pro shop, training and lessons, have been maintained under the new contract which started on 1 November.
More articles in the news archive.