Home
City resolves to increase canopy coverage
Published Friday, 2nd December 2022
Wanneroo Council has endorsed a new Urban Forest Strategy, a key document in setting the City's goals for protecting, retaining and improving canopy cover and vegetation over the next 20 years.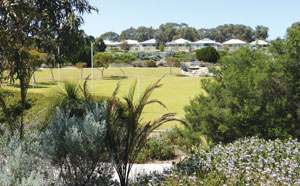 Wanneroo Mayor Linda Aitken said the Strategy provided a framework increasing canopy cover across the City.
"This is a sensible approach, developed with local residents' aspirations for a green and sustainable City in mind, and I was pleased to see the community's support for the objectives set out in the Strategy," she said.
"I want to thank everyone who took the time to share their views during the recent community consultation.
"Your feedback not only helped shape the final Strategy, but also provided insights that will be valuable during its implementation."
The Urban Forest Strategy outlines the City's intention to work with the community and key stakeholders, including the State Government, to protect the City's existing canopy and vegetation, while increasing new canopy cover.
"A key initiative includes a move to focus the City's annual tree planting program in suburbs with less than 5 percent tree cover and those containing heat islands," Mayor Aitken said.
"This will help us achieve our canopy coverage goals and reduce the impacts of these heat islands."
"This is just one of the ways this Strategy strengthens the City's commitment to enhancing the sustainability and liveability of the City and to ensuring our urban forest is preserved and protected for future generations."
Find out more about the Urban Forest Strategy at wanneroo.wa.gov.au/urbanforeststrategy

More articles in the news archive.