Website issue - Near Me functionality
The Near Me feature on the City's website is currently not functioning. We are investigating and hope to have it back online as soon as possible.
Home
City releases proposed concept for Quinns Rocks ecotourism development
Published Wednesday, 14th December 2022
The City of Wanneroo has released a concept proposal for the redevelopment of the former Quinns Rocks Caravan Park site.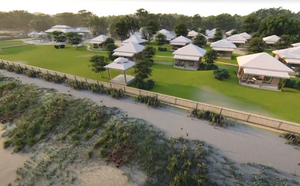 The concept for the proposed ecotourism accommodation, café and event space is now available to view on Your Say, the City's online community engagement hub.
Wanneroo Mayor Linda Aitken said the City had been exploring opportunities for the reactivation of the site since its closure in 2012, and she was looking forward to hearing the community's thoughts on the proposal.
"While our formal engagement doesn't start until February next year, we're keen to give the community a head start and involve local residents, businesses and groups in the process," Mayor Aitken said.
"This is your chance to jump online and take a look at the proposal, help shape the upcoming community engagement process or tell us if there's something else you'd like to see for the site."
The proposed concept for the ecotourism accommodation, café and event space was developed following an advertised Expression of Interest process undertaken by the City in 2021.
Residents, ratepayers and visitors to the City are now invited to visit Your Say to view the concept and learn more about the project.
"We know the community is passionate about this project and we've aimed to address all the comments, suggestions and concerns we've received in recent years as part of this process," Mayor Aitken said.
"I encourage everyone to visit the website, explore the concept and help us shape the future of this project."
Council will consider the outcomes of the community engagement towards the middle of 2023.
More articles in the news archive.