Website issue - Near Me functionality
The Near Me feature on the City's website is currently not functioning. We are investigating and hope to have it back online as soon as possible.
Home
Kingsway scores FIFA Women's World Cup
Published Thursday, 15th December 2022
Kingsway Regional Sporting Complex will host the Denmark international side as part of the FIFA Women's World Cup 2023™.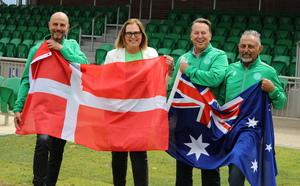 The Danish team has chosen the City's facility in Madeley for its team base camp and training site.
A floodlighting upgrade is currently being carried out at Kingsway, with the main soccer field to receive 500 lux lights to meet Australian professional match standards.
Wanneroo Mayor Linda Aitken said it was great to see Kingsway Regional Sporting Complex recognised as a world-class sporting venue.
"This is an exciting opportunity for a City facility to play a role in one of the biggest women's sporting events on the planet," she said.
"I can't wait to show off all that the City of Wanneroo has to offer."
FIFA Chief Women's Football Officer Sarai Bareman said training base camps at the FIFA Women's World Cup will ensure teams and players are provided with the best possible platform to perform at their peak.
"Our mission for the FIFA Women's World Cup 2023 is to go 'Beyond Greatness', and to do that we must provide elite environments for the 32 teams to train, rest and recover," she said.
"With great support from our host countries, governments and the host cities, FIFA will provide each team with the best training and preparation environment possible, enabling them to focus on their performances at the tournament while at the same time offering them the chance to connect with people and communities where they are based."
The FIFA Women's World Cup 2023 will see matches held across Australia and New Zealand, including five matches confirmed for Perth in July and August next year.
The $2.7 million Kingsway Regional Complex floodlighting project has been funded by the State Government's WA Recovery Plan and a $126,000 contribution from the City of Wanneroo.
More articles in the news archive.