Home
Community invited to provide feedback on proposed Quinns Rocks tourism development
Published Friday, 17th February 2023
The City of Wanneroo is calling on the community to have their say on a redevelopment concept for the former Quinns Rocks Caravan Park site.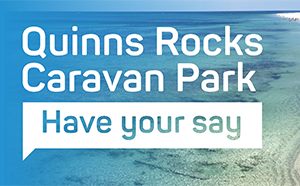 Wanneroo Mayor Linda Aitken said she was pleased to see such a high level of interest and engagement from the community since the proposal was released late last year.
"We want the local community to be involved in this project every step of the way, and the level of engagement we've received so far demonstrates the community's passion to help shape our City," Mayor Aitken said.
"Throughout January we met with local residents and businesses, community group representatives and stakeholders, and now we're inviting City residents and ratepayers to visit Your Say and provide their feedback through a short survey.
The proposed concept, which sits within the footprint of the former caravan park, was developed following an advertised Expression of Interest process undertaken by the City in 2021.
The City then released the concept proposal in December 2022, to give the community time to explore the concept and submit questions, prior to the formal community engagement process starting.
Council will consider the outcomes of the community engagement in mid-2023.
If approved, the concept would need to progress through further planning and related approval processes.
To find out more about the project, visit wanneroo.wa.gov.au/yoursay
More articles in the news archive.