Home
Council endorses changes to bulk waste service
Published Thursday, 23rd February 2023
Community convenience and sustainability will be boosted by the launch of a new pre-booked bulk waste collection service next year.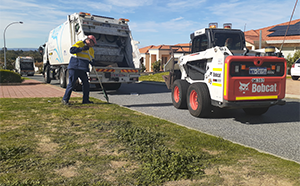 Endorsed at a Council meeting this week, the new service will see the City move to a pre-booked 'on demand' model following a review of the City's waste services last year.
Mayor Linda Aitken said the transition reflected the City's commitment to improving waste management practices to deliver benefits for the community and the environment.
"This new model provides a more flexible and convenient service for our residents, and will help keep our streets free of clutter," she said.
"Instead of set times to place out bulk junk and greens on verges across whole suburbs, this model means residents can request a collection at a time that suits them.
"As well as better customer service, the pre-booked system is better for the environment, and will help reduce waste sent to landfill.
"It's estimated that in the coming years, the City's current bulk waste system will no longer be able to meet service demands. The new model will ensure we can continue to meet the needs of our rapidly growing population."
A community education program about the new system will be rolled out in the coming months. Look out for more information on the City's website and Facebook page.
More articles in the news archive.