Home
Safety improved at Trichet Road in Wanneroo
Published Thursday, 9th March 2023
To enhance safety for the community, sealed shoulders will be constructed along Trichet Road in Wanneroo.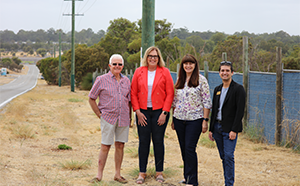 Trichet Road is heavily used by trucks and other commercial vehicles and the works aim to provide a safety buffer for drivers, cyclists and other road users.
Funded by Main Roads' Black Spot Program, the sealed shoulders will run from Franklin Road to Hawkins Road on both sides of the road.
The works will create a safer road network that links to the City's East Wanneroo precinct, which is currently in the planning stages and set to house 150,000 residents in 50,000 homes in the future.
Works are expected to start later this month and be completed by the end of July.
More articles in the news archive.