Home
Reconciliation Australia endorses City action plan
Published Friday, 10th March 2023
Reconciliation Australia has endorsed the City's Innovate Reconciliation Action Plan (RAP) 2023-2025, following Council adoption last year.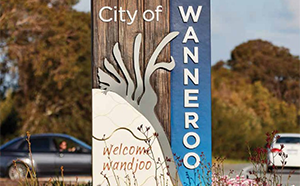 The Plan details the City's commitment to continuously working towards improving relationships, opportunities and respect between Aboriginal and Torres Strait Islander peoples and other Australians.
The Innovate RAP was developed in consultation with the City's Aboriginal and Torres Strait Islander community reference group Ni Kadadjiny Koort, the wider community and City staff.
Mayor Linda Aitken said the Plan outlined the practical actions the City would take to contribute to national reconciliation.
"Over the next two years, the City will focus on recognising and protecting significant cultural sites, as well as improving opportunities to do more business with local Aboriginal and Torres Strait Islander businesses," she said.
"We will also work on developing relationships with the Aboriginal and Torres Strait Islander community, increase representation in employee numbers and continue rolling out cultural awareness training.
"This Plan is an exciting step forward and allows the City to continue to improve reconciliation strategies that will lead to positive change in our community."
Reconciliation Australia Chief Executive Officer Karen Mundine said the Innovate RAP was an opportunity for the City to strengthen relationships, gain crucial experience and nurture connections.
"By enabling and empowering staff to contribute to this process, the City of Wanneroo will ensure shared and cooperative success in the long term," she said.
"Gaining experience and reflecting on pertinent learnings will ensure the sustainability of the City of Wanneroo's future RAPs and reconciliation initiatives, providing meaningful impact toward Australia's reconciliation journey.
"Congratulations to the City of Wanneroo on your third Innovate RAP and I look forward to following your ongoing reconciliation journey."
Ni Kadadjiny Koort Chairperson Derek Nannup said making Aboriginal history, culture, language and registered sites accessible to the wider community helps form a sense of pride and ownership.
"The City of Wanneroo sees the importance of collaboration with our Aboriginal community, which helps teach people the significance of the area," he said.
The Innovate RAP features artwork from local artists and includes interesting Noongar cultural facts. It is accessible on our website, with hard copies available at the Wanneroo Civic Centre.
More articles in the news archive.