Community Survey - Website User Testing Activity
Help us improve our website and go into the draw to win a $50 shopping voucher! Start the survey
Home
Support funding to host NAIDOC and Reconciliation Week events now open
Published Tuesday, 21st March 2023
The City encourages community groups hosting NAIDOC Week and National Reconciliation Week events to apply for our Community Funding Program.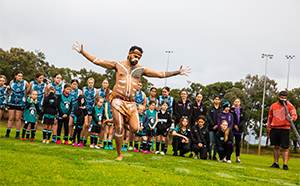 The program supports one-off community-led and co-funded local activities, projects and events that benefit the wider community.
The City has up to $5,000 available per grant for successful applicants hosting National Reconciliation Week (27 May-3 June) and NAIDOC Week (2-9 July) activities and events.
Mayor Linda Aitken said she encouraged community groups to apply for the funding.
"This program supports the City's commitment to continuously working towards improving relationships, opportunities and respect between Aboriginal and Torres Strait Islander peoples and other Australians," she said.
"Last year, we were proud to support Kingsway Junior Football Club's NAIDOC Round through our Community Funding Program.
"Some 2,000 people attended the special event which included a smoking ceremony, Welcome to Country, cultural performances, children's activities and a bush medicine activity."
Through the Community Funding Program, the City also supported Ngulla Koort Indigenous Incorporation's successful Outer North NAIDOC event in 2022.
This year's National Reconciliation Week theme is 'Be a Voice for Generations' and the NAIDOC Week theme is 'For Our Elders'.
Find out more and submit your application at wanneroo.wa.gov.au/communityfunding
More articles in the news archive.