Community Survey - Website User Testing Activity
Help us improve our website and go into the draw to win a $50 shopping voucher! Start the survey
Home
Community supports new-look Rotary Park Play Space
Published Wednesday, 22nd March 2023
The community has shown their support for the concept design for a new-look Rotary Park Play Space in Wanneroo.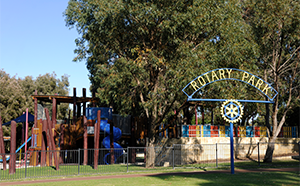 The concept was endorsed by Council this week, following a consultation period that wrapped up in November last year.
The design includes refurbishing the tree house, installing nature play elements, climbing structures, imaginative play items and shade sails, as well as fully enclosing the park and adding a rubberised surface to help improve children's safety.
Mayor Linda Aitken said she thanked residents who took to the time to comment on the proposal.
"We know Rotary Park is a beloved park and these upgrades will make sure it meets future needs, giving even more local families a place to connect," she said.
"It is important that the City continues to provide accessible, inviting and safe open spaces for our community."
The Rotary Park Play Space will now progress to the detailed design phase.
More articles in the news archive.