Community Survey - Website User Testing Activity
Help us improve our website and go into the draw to win a $50 shopping voucher! Start the survey
Home
International competition to shine a light on Kingsway
Published Thursday, 23rd March 2023
Excitement has reached fever pitch as the City of Wanneroo prepares to host the Denmark international team as part of the FIFA Women's World Cup 2023.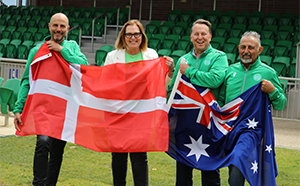 Floodlighting at Kingsway Regional Sporting Complex's main soccer pitch has been upgraded to 500 lux lighting to meet professional match standards.
The international competition will see matches held across Australia and New Zealand, including five matches confirmed for Perth in July and August.
The Danish side has chosen Kingsway in Madeley for its team base camp and training site, the first Western Australian ground to be chosen.
Mayor Linda Aitken said the FIFA Women's World Cup was an opportunity to showcase Kingsway as a world-class venue.
"I am excited to give a warm Wanneroo welcome to the Denmark team and offer them a venue to train, rest and recover," she said.
"This is an exciting opportunity to put Kingsway up in lights and to play a role in one of the biggest women's sporting events on the planet.
"We're hopeful that attracting FIFA will encourage more women in our community to get involved in sport."
Wangara-based Stiles Electrical and Communication Services carried out the works and also installed upgraded energy efficient floodlighting fixtures at two other Kingsway soccer fields, two training fields, a rugby training field and a multi-purpose field.
The $2.7 million project was funded by the State Government's WA Recovery Plan and a $126,030 contribution from the City of Wanneroo.
More articles in the news archive.