Community Survey - Website User Testing Activity
Help us improve our website and go into the draw to win a $50 shopping voucher! Start the survey
Home
City of Wanneroo CEO Daniel Simms resigns
Published Friday, 31st March 2023
After 21 years of dedicated service at the largest and fastest growing local government in Western Australia, City of Wanneroo Chief Executive Officer Daniel Simms has resigned.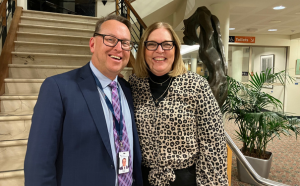 "After more than two decades, I have made the difficult decision to depart the City of Wanneroo to accept the position of CEO at the City of Cockburn," he said.
"I am immensely proud of what we have achieved for our community during my time at the City, and I am grateful to have had the privilege of working with a dedicated and hardworking team.
"I know the City will continue to thrive with the support of our incredibly talented people across the organisation and Council."
Mayor Linda Aitken said Mr Simms had created a lasting legacy that would benefit current and future residents of the City for years to come.
"During Dan's time, the City's population has grown exponentially, and his strong leadership has ensured the City rose to meet this challenge," she said.
"He drove business investment to help create a strong local economy, major infrastructure projects to support our growing community, and nurtured an inclusive and diverse City with incredible lifestyle opportunities for our residents.
"Wanneroo would not be the City it is today without his invaluable contributions. We thank Daniel for his dedicated service and wish him all the very best."
Mr Simms took the reins as CEO in 2008, after serving as the City's Director of Governance and Strategy for four years.
He said he was confident the City would continue to go from strength to strength under new leadership.
"I would like to thank the Mayor and Councillors, the Executive Leadership Team and City staff for their hard work and commitment," Mr Simms said.
"The City of Wanneroo has a very bright future, and I am confident it will continue to thrive under new leadership and with the benefit of an experienced Mayor and Council.
"I look forward to seeing it continue to grow and develop in the years to come."
Mr Simms will finish at the City of Wanneroo at the end of September.
More articles in the news archive.