Community Survey - Website User Testing Activity
Help us improve our website and go into the draw to win a $50 shopping voucher! Start the survey
Home
Cheers for City's volunteers
Published Monday, 17th April 2023
The City of Wanneroo recently hosted a celebratory event to recognise the efforts of a dedicated group of volunteers.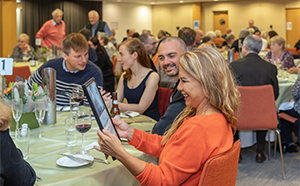 Mayor Linda Aitken said the 2023 Community Services and Conservation Volunteers Dinner at the Wanneroo Civic Centre was an opportunity to honour our incredible volunteers and thank them for their contributions to the City.
"With more than 220,000 people now calling the City of Wanneroo home, we rely more than ever on dedicated and committed volunteers to help ensure it continues to be a great place to live, work and visit," she said.
"Our 96 conservation and community services volunteers help the City in a variety of ways, supporting staff to deliver a range of programs and services for some of the most vulnerable members of our community and caring for our natural environment to ensure our incredible reserves and bushlands are maintained and protected."
Six volunteers were also presented with peer-nominated excellence awards for outstanding dedication to their role and service to the City.
Barry Poole, Friends of Yellagonga
Barry has been volunteering for over 20 years and is an incredible asset to both the Friends of Yellagonga and to the City of Wanneroo community.
He works closely with the City's Parks and Conservation team to help with revegetation works, removing invasive plants, coordinating tree planting events and general maintenance.
Mike Riddett, Community Transport Service
Mike is a reliable and caring volunteer whose efforts ensure a vital service is available to those who need it.
For some of our seniors, the Community Transport Service is their only social connection, and Mike is committed to providing vulnerable members of our community with the opportunity for social connectedness and improved wellbeing.
Derek Nannup, Ni Kadadjiny Koort member
Derek started his volunteering journey with the City in 2019, when he joined Ni Kadadjiny Koort, the City's Aboriginal and Torres Strait Islander Reference Group.
He shares his cultural knowledge and lived experience to advise the City on issues relating to community and people of an Aboriginal and Torres Strait Islander background, and support the development and implementation of the City's Reconciliation Action Plan.
Sally Allen and Frank Cvitan, Wanneroo Library Justice of the Peace Signing Room
During COVID, when many public buildings were closed, Sally and Frank continued to volunteer at the Wanneroo library signing office to ensure the local community had access to JP services.
As the only open office in the northern suburbs, Sally and Frank provided invaluable assistance to community members with urgent paperwork, such as overseas pension forms or probate paperwork following the deaths of family members.
In their spare time, they even helped library staff pack books in bags for the community as part of the Call and Collect service.
Graeme Budge, Conservation
Graeme became a conservation volunteer in early 2021, initially adopting Damian Park and soon adding Belgrade, Chicquita, Edgar Griffiths, Franklin and Benmuni parks to his schedule.
He is one of the City's most active conservation volunteers, hand weeding and removing litter from these reserves weekly, and supporting other conservation volunteers by attending their activities such as planting days, guided walks and bush care days.
In addition, he helps the City's feral animal program by photographing native and feral animals within the City's reserves.
At the function, volunteers from the following areas were recognised:
Yanchep Community Centre JPs
Toys for Mayor's Xmas Appeal
Community Transport Service
Clarkson Library JPs
Wanneroo Library JPs
Multicultural Advisory Group
Ni Kadadjiny Koort (Aboriginal and Torres Strait Islander Community Reference Group)
Friends of Yellagonga Regional Park
Yanchep Coastcare
Quinns Rocks Environmental Group
Friends of Koondoola Bushland
Friends of Landsdale Conservation Park
Friends of Rufus Park
Friends of Marangaroo
Friends of Voyager Park
Friends of Tranquil Park
Friends of Whitfield Park
Friends of Boyagin and Burbanks Park
Friends of Damian Park
Friends of Da Vinci Park
Friends of Lake Adams/Peridot Park
The City will acknowledge other volunteer groups at events throughout the year.
Volunteering is a great way to get involved with your local community, contribute to a cause you care about and meet like-minded people. To find out more about volunteering with the City, visit wanneroo.wa.gov.au/volunteers.
View photos from the function on the City's Facebook page.
More articles in the news archive.