Community Survey - Website User Testing Activity
Help us improve our website and go into the draw to win a $50 shopping voucher! Start the survey
Home
Young women inspired to race into STEM careers
Published Thursday, 11th May 2023
Local schoolgirls gained an insight into the motorsport industry as part of Motorsport Australia's Girls on Track program held last Friday.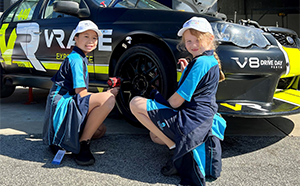 Part of the 2023 Bosch Power Tools Perth SuperSprint weekend, Motorsport Australia held two workshops at Wanneroo Raceway.
Students from Girrawheen's Roseworth Primary School and Clarkson Senior High School took part in the free STEM (Science, Technology, Engineering and Mathematics) sessions.
The INSPIRE workshop was aimed at girls aged 8 to 15 and provided an insight into the motorsport world, encouraged an interest in STEM subjects and industries and aimed to increase female participation in these sectors.
The PATHWAYS session hosted girls and young adults aged 15 to 22 and aimed to inspire them to pursue careers in the motorsport industry, connect with women currently in the industry and take part in simulator, STEM and pit stop challenges.
Mayor Linda Aitken said the Girls on Track program was a fantastic opportunity for young women to learn more about the motorsport industry and future career options.
"The City of Wanneroo was excited to sponsor the SuperSprint weekend, which not only supported career development for local young women, but also benefited our local economy," she said.
"Hosting the national event attracted around 9,000 visitors per day, creating an estimated total visitor spend of $4,050,000, and 42 local jobs annually."
Roseworth Primary School Year 4 student Diana (9) said she enjoyed learning STEM subjects at school and one day hoped to become a doctor.
"Girls on Track was great, it's my first time at an event like this, I really enjoyed building Lego robots and learning to change a tyre," she said.
Roseworth Primary School Science Teacher Anna Keunen said the program helped the students develop their problem solving and critical thinking skills.
"Girls on Track was an amazing experience for the students – they were immersed in the noise and atmosphere and also learnt practical skills like changing a car tyre," she said.
More articles in the news archive.